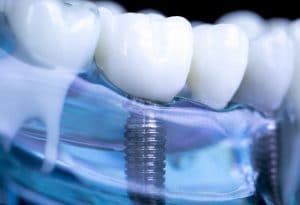 Tooth loss is a well-known concern, even for patients who still retain all of their healthy, natural teeth. For some people, it can seem like a problem they'll have to deal with eventually. For others, it's something they diligently try to avoid, hoping they never do. The good news is that tooth loss is largely preventable for most people, with the right, consistent care and maintenance. Yet, when it does occur, rebuilding your smile and restoring your oral health may be more complex than you realize. Today, we take a look at what tooth loss can mean for your smile, and why dental implants can offer the best solution for restoring and preserving it.
What tooth loss really means for your smile
Losing one or more teeth can have several highly noticeable consequences. The appearance of your smile, for instance, can be vastly different, depending on how many teeth you've lost and where they were along your dental ridges. In some cases, your ability to bite and chew, and to enunciate your words clearly, can also be noticeably affected. However, some of the more serious long-term consequences of tooth loss don't become obvious until much later. Many of these involve the loss of your teeth roots, which are designed to not only support your teeth, but also the oral structures that form the foundations of your smile.
What conventional tooth replacements lack
As the art of restorative dental care and tooth replacement has advanced, the quality of conventional dental prostheses has, as well. Most of today's restorations can closely mimic the appearance of your lost teeth to create a replacement that blends in discreetly and helps restore much of your bite function. However, they lack a system of support that can match that of your healthy natural teeth, which remain stable and steady with the help of natural roots. Without root-like anchors to keep your restoration in place, its ability to restore your smile and oral health is limited.
What dental implants do better
The most important benefit that implant restorations offer is the ability to replace the roots of your lost teeth as well as their visible portions. Dental implants are designed to mimic healthy, natural teeth roots, and they're made from biocompatible titanium that allows natural bone structure to bond to it. After the posts are inserted, your jawbone structure heals to their surfaces, making them similar to the healthy roots that remain to support your natural teeth. This not only provides significantly more comfortable and reliable support for your restoration, but also does a better job of preserving your jawbone and surrounding oral structures.
Learn more about tooth loss and dental implants
Tooth loss can affect your oral health in more ways than you might realize, but with dental implants, you can successfully address most of those effects. To learn more, schedule an appointment with us by calling Dreem Dentistry in Leawood, KS, today at 913-681-5500. We also serve patients who live in Overland Park and all surrounding communities.