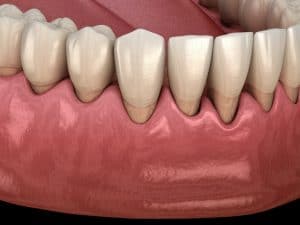 When you know the dangers that gum disease could potentially pose to your oral health, and beyond, the importance of maintaining your good gum healthy seems obvious. However, many of the most serious consequences of gum disease aren't that well-known, generally speaking. To some people, it isn't much a concern at all. Today, we explain what it means when your gums become diseased, and a few signs that could warn you it's time to talk to your dentist about controlling gum disease.
What gum disease means for your oral health
When oral bacteria gather in enough numbers, they can cause significant harm to your oral health. In the case of gum disease, certain types of bacteria work their way underneath your gums, infecting the tissues as they settle on the surfaces of your teeth roots. The infection is aptly named gum disease because, once it develops and progresses, it can be impossible to reverse or cure the condition. Patients who have gum disease often require periodic periodontal maintenance to ensure that it doesn't start progressing again and risk their oral and gum tissues.
Warning signs that your gums are diseased
One of the most notable, severe consequences of gum disease is the loss of one or more of your teeth due to the erosion of your periodontal tissues and jawbone structure. However, gum disease progresses a lot from the time it first develops to the time it becomes that severe, and you may have plenty of warnings to care for your gum health before it does. Some of these warnings may include:
Noticeable changes in your gums' appearance
Chronic inflammation in your gum tissues
Bad breath, or halitosis, that grows increasingly worse
Bleeding in your gums when you brush and floss
Loose and/or increasingly more sensitive teeth
And more
Maintaining your healthy gums
If you notice signs that your gums are diseased, then you may still prevent the significant damage that it can cause by seeking treatment for it as soon as possible. For example, with personalized scaling and root planing (or periodontal cleaning), your dentist can remove the bacteria buildup on your teeth roots' surfaces and give your gum tissues a chance to heal. Depending on the severity of your condition, you might also require routine care from a periodontal health expert, or periodontist.
Learn if you need gum disease treatment
Gum disease doesn't typically announce itself with a bang, which is why it's especially important to be diligent in caring for and monitoring your gum health. To learn more, schedule an appointment with us by calling Dreem Dentistry in Leawood, KS, today at 913-681-5500.