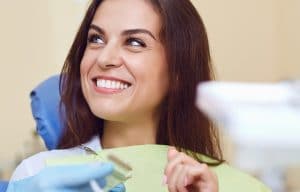 When it comes to restoring teeth that suffer from structural damage, or that require extensive tooth decay treatment, dental crowns have long been one of the most effective solutions. Designed according to your specific needs, and to closely mimic the size and shape of your healthy tooth, a dental crown can completely cap your tooth and restore its ability to function properly. This can be necessary if the tooth is fractured or broken, or experiences a number of other concerns. However, many patients are surprised to learn just how advanced modern dental crowns have become, and how much they can do for your smile and oral health due to their more lifelike designs.
They actually look like natural teeth
The ability to restore a tooth by capping it depends on a dental crown's ability to mimic your healthy, natural tooth's size, shape, and contour. In many cases, dental crowns are also crafted from highly lifelike materials, such as dental porcelain, that also closely mimic the color, shade, and shine of your healthy tooth structure. This gives your dental crown the ability to blend in discreetly with the healthy teeth around it, making it virtually undetectable when you speak and smile.
They're designed to be much more precise
In addition to using more lifelike materials, many dental crowns are also designed using advanced digital imaging equipment that dramatically boosts the precision of the design process. Digital 3D imaging allows your dentist to carefully measure your tooth and oral structures without the need to place a physical mold over them. The measurements are also more detailed and accurate, and can be translated into the final restoration's creation with greater precision.
They can replace lost teeth, too
Dental crowns have traditionally been relied on for restoring teeth and stopping any further tooth damage from occurring. Most importantly, this helps you preserve the healthy tooth structure that remains and avoid losing the tooth, or having to extract it. However, when a tooth is lost, a dental crown may also be able to replace it without the need for a full dental bridge. By replacing the lost tooth root with a dental implant post, then topping the implant with a custom-designed dental crown, we can help recreate the natural, root and crown structure of your lost tooth.
Learn if a modern dental crown is right for you
With more precise design techniques and higher-quality, more lifelike materials, today's dental crowns can do a lot more for your smile than you might expect. To learn more, schedule an appointment with us by calling Dreem Dentistry in Leawood, KS, today at 913-681-5500. We also serve patients who live in Overland Park and all surrounding communities.