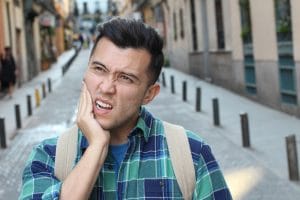 When you visit your Leawood, KS, dentist, you are probably coming in for a regular checkup or cleaning. You might be seeing us for a cosmetic dentistry treatment or something like a root canal procedure. These are some of the things for which most patients visit dentists. But there is something else we can help you with if you are experiencing it: constant teeth grinding. It is called bruxism, and you may not even know you are doing it. While we look at your teeth during an appointment, we can watch for signs of it, like the tips of your teeth starting to flatten. If this is happening, we can fit you with a custom-designed appliance. 
Why Would I Not Know I Am Grinding My Teeth?
One of the reasons you may not know that you are experiencing bruxism is because it often happens when you sleep. Now, grinding your teeth or clenching your jaw when you are angry or stressed is normal, and it happens to many of us on occasion. But with bruxism, patients consistently grind their teeth. And yes, stress is the main culprit that instigates it. However, alcohol and caffeine, smoking, tiredness, and sleep apnea can also cause it to happen. Even some antidepressants may attribute to its cause. When you visit your Leawood, KS, dentist, we can help determine what is making you grind your teeth. 
I Think I Will Be Okay
While you may believe that you will be fine if you don't treat your grinding teeth, you could lead yourself open to a wide variety of issues if it is not addressed. These issues include, but are not limited to, cracked or chipped teeth, jaw locking, interior cheek damage, the erosion of the enamel, and jaw dislocation.
You Are Right, That Does Sound Bad
So that we can address it early and help prevent any future dental health issues, you will want to visit us so that we can create a custom-designed appliance for you to wear when you sleep. It is comfortably designed to help protect your teeth. If you are regularly waking up with headaches, ears ringing, or pain in the jaw that lasts a while, then you may be experiencing grinding of teeth. 
Habits That May Help
While the oral appliance may help protect your teeth, there are other lifestyle habits you can do that may lessen bruxism. These include regularly exercising, seeking the advice of a healthcare provider if you suffer from stress or anxiety, getting a prescription for muscle relaxers, and signing up for physical therapy sessions. 
Schedule An Appointment With Us 
We care about your overall oral health, and we want to help you with bruxism. To learn more, schedule an appointment with us by calling Dreem Dentistry in Leawood, KS, today at 913-681-5500. We also serve patients who live in Overland Park and all surrounding communities.