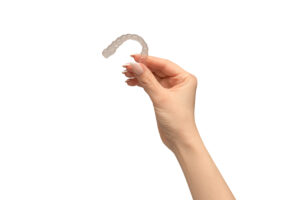 When you have pain in your jaw, such as discomfort when eating, or a chronic headache, this could be related to your smile. Strained jaw joints could lead to painful disorders like TMD, also known as TMJ disorder, and bruxism. In today's blog, your Leawood, KS, dentist looks at easing your jaw joint disorders with a custom nightguard.
Possible Signs of Trouble
How do you know when you need to see us and have your jaw joint strain examined? People may experience persistent headaches and migraines, or pain in the jaw. Facial aches are common too, as is a clicking or popping sensation in the jaw. When you experience pain in and around your smile, you should let us know right away. Our team will conduct a detailed examination using advanced digital imagery, so we can provide a diagnosis with precision and accuracy, and choose the most appropriate treatment options to bring relief to your smile.
TMJ Disorder and Bruxism
TMJ disorder and bruxism are two different disorders, but they're often related, as one could lead to another. TMJ disorder means the jaw joints are strained, which could be caused by tooth loss, injury to the jaw or face, issues with jaw growth, problems with tooth eruption, or misalignment. Bruxism could be caused by the same factors, as well as a high level of stress in your daily life. Without treatment, both are linked to painful symptoms, such as toothaches and tooth sensitivity, jaw and facial pain, and aches in the neck and shoulders. Without treatment, TMJ disorder could alter how you open and close your mouth, and bruxism could wear down and damage teeth, leading to cavities and infections.
Creating Custom Nightguards
Our team will take detailed digital images of your smile from multiple angles, and use the images and measurements to design and create an oral appliance that looks and fits like a mouthguard. These nightguards are worn as you sleep, and they alter the position of your jaw to ease strain and bring relief. If you grind your teeth, these also put a barrier between the upper and lower sets of teeth to prevent further damage. In addition, we could discuss orthodontic treatment, prosthetic dentistry, or restorations like crowns to improve the overall balance of your bite and bring relief.
If you have any questions about how our team will diagnose and treat TMJ disorder and bruxism, then contact our team today to learn more.
Talk To Your Leawood, KS Dentist About Our Custom Oral Appliances
If you have jaw joint pain or headaches, we can help with our custom and removable dental appliances. If you want to learn more, then contact Dreem Dentistry in Leawood, KS by calling 913-681-5500.