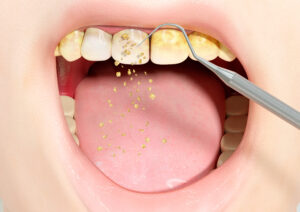 When you have sore, red, and bleeding gums, this could mean you have gingivitis or the early stages of periodontal disease, and that treatment is crucial for protecting your smile. To help manage the concern, we could offer a deep cleaning. In today's blog, your Leawood, KS, dentist talks about our scaling and root planings.
The Impact of Plaque and Tartar
When we don't brush and floss properly, and we eat foods high in sugar and starch, this leaves behind particles trapped between the teeth. As bacteria break down these particles, this elevates oral acidity and coats the teeth in plaque. The buildup covers the teeth and hardens into tartar with time. Brushing and flossing can limit buildup severity, but only a cleaning can remove it completely. These layers make teeth stains more visible and can lead to bad breath too. The same layers also weaken tooth enamel to make cavities and infection possible, and increase the risk of gingivitis and gum disease by inflaming gum tissues. Removing the buildup is crucial for keeping smiles healthy and beautiful.
The Deep Cleaning
If your buildup has grown severe and led to the onset of gingivitis or gum disease, then you may experience sore, red, and bleeding gums. Without treatment, you risk the late stage of the disease, known as periodontitis, which causes adult tooth loss. To make management possible, we can offer a deep cleaning. Using an ultrasonic scaling device, we will remove buildup from the teeth and the roots, and then polish them thoroughly. This could take one visit or as many as four, it depends on the severity of your buildup. We take time to numb your smile to keep you comfortable during the procedure. Once we're done, you may benefit from traditional cleanings every three to four months.
Better Homecare Hygiene
To help safeguard your smile from home, try to limit foods and drinks high in sugar, and meals high in starch. Drink plenty of water to help clean the smile, and take time to brush twice a day for two minutes and floss every evening. These actions roe food particles to limit plaque and tartar buildup until we can see you for a dental cleaning to remove the buildup completely. If you have any questions about fighting plaque and tartar buildup, or about scheduling a cleaning or a scaling and root planing with our team, then contact our team today to learn more. We want to help you enjoy a whole and healthy smile for years to come!
Do You Have Questions About Periodontal Disease?
Contact Dreem Dentistry in Leawood, KS by calling 913-681-5500 to learn more about safeguarding your smile against the onset of gingivitis and periodontal disease with preventive dentistry.