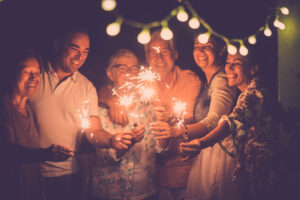 Around this time of year, it can be gratifying to take stock of the successes of the past year. It can also be a helpful experience to reflect on where we could have done better. This makes it a perfect time to schedule a routine cleaning and examination at Dreem Dentistry in Leawood, KS.
During your visit, discuss the possibility of refreshing your smile with a whitening procedure. Our office provides multiple forms of this process, so there is a convenient and accessible option for you to remove years of built-up stains. Take advantage of the time past the holidays to ensure that your smile stays safe and healthy!
Exams Help Us Keep Healthy
Prevention is key within dentistry and it can be crucial in eliminating possible damage before it has a chance to occur. Our enamel does not readily regrow, so any decay or infection can lead to lasting harm. One way that we maintain a happy smile is through a twice yearly dental checkup.
This allows a trained oral health provider to have regular access to your mouth. By spotting a potential concern early, it may be possible to avoid future damage or minimize it as much as possible. When we skip these appointments, potential damage is allowed to occur.
A Trained Eye And Thorough Cleaning
Spotting the development of tooth decay and periodontal recession is important to keep your mouth as safe as possible into the future. The cleaning that you receive alongside your checkup is also valuable. This can remove plaque and tartar from the enamel, as well as debris at the gumline.
Routine cleaning can help you to look and feel your best. Putting off these appointments can allow your smile to falter over time. We appreciate a solid home health regimen, but there is no substitute for an in-office visit!
Speak To Your Dentist About Whitening
Discoloration is a primary concern within American smiles. If you have issues with enamel stains, bring it to the attention of your dentist at your examination. This may be a great time to plan your cosmetic enhancement. We offer in-office whitening for those looking for a speedy solution. In addition, our at-home trays can help you conveniently lift the shading of your teeth.
With both of these approaches, we aim to keep a close eye on the process in order to ensure that we safely care for your enamel. Your overall oral health is our utmost concern!
Come See Us In Leawood, KS
Take advantage of the time around the holidays to appreciate your smile. Call us today to schedule your appointment for a cleaning and examination. For those in the Kansas City metro region, Dreem Dentistry is conveniently located in Leawood, KS. Call us today at (913)681-5500!