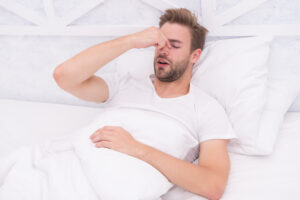 It goes without saying that your smile endures a significant amount of wear and tear over the years. Not only do you have to worry about the types of foods and beverages you consume and how they can lead to staining, but too much sugar in your diet can promote cavities and dental decay. Moreover, these are only a fraction of the traditional issues a smile is plagued with, and nontraditional issues are on their own different playing field. In today's blog, your Leawood, KS dentist takes a detailed look at the effects of sleep apnea and shares what you can expect from treatment.
A Nontraditional Dental Concern
From a young age, your parents or guardians likely instilled upon you the need to practice routine dental prevention. This routine often consisted of brushing twice a day, flossing between meals, and of course, rinsing with an antiseptic mouthwash. It also consists of attending routine dental checkups to ensure your oral health was in the best shape it could be.
In all truth, this is an excellent preventive routine and you should, ideally, be practicing it regularly even today. After all, the many factors that negatively affect your smile will continue to target your grin, so you should not let up anytime soon. Overall, however, this routine is only effective against bacterial concerns, and though they represent the majority of dental issues, they are not the only things you need to worry about.
Nontraditional dental concerns can wreak havoc on your oral health without you even knowing it. For instance, sleep apnea is a dangerous sleep disorder that occurs when the muscles in the throat relax, causing your airway to become restricted. Not only does this lead to dry mouth, but so much more. Contact our team to learn more today.
Immediate Impacts
A person experiencing sleep apnea might not know immediately, but they can put the pieces together with a few telltale signs. For instance, daytime fatigue, difficulty concentrating, irritability, daytime hypersomnia, awaking with a dry mouth, feeling as though you are tired despite receiving a full night's rest, and more are all signs of sleep apnea.
Though you may not quite understand how these issues directly influence your oral health aside from the dry mouth, in truth, it is one that you do not want to sit on. To learn more about the effects of OSA and how our team can help, give us a call today.
Long-Term Concerns
Without treatment, OSA can progress into a total-body problem. For instance, individuals experience difficulty taking certain medications and having surgeries, liver problems, cardiovascular and breathing problems, and more.
Schedule Your Treatment
To learn more about the steps you can take to receive sleep apnea treatment, contact Dreem Dentistry in Leawood, KS by calling 913-681-5500 to speak with our team and schedule your next appointment.