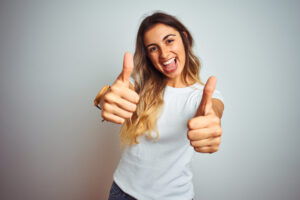 Recognizing that you want to enhance your smile's appearance is one thing, but knowing where to start is something completely different. Indeed, there are several different ways your smile can be cosmetically impacted, from the formation of difficult stains and discoloration to developing surface-level chips and even cracks. While one method may seem like the best option, it is always best to seek the opinion of a dental professional in order to provide your grin the best chances of success. In today's blog, your Leawood, KS dentist takes a look at the different cosmetic treatment options out there and which may be best to pursue based on your unique needs.
The Best Treatment for Stains
Ah, stains. Believe it or not, age in and of itself is a contributing factor to stain development, as well as discoloration in the smile. In fact, it is a natural part of aging. Although it does not mean there is anything wrong health-wise with your grin, having to sport a less-than-stellar appearance can significantly impact your confidence and comfortability with your own smile.
The last thing our team wants is for you to feel ashamed of your smile, and as such, we offer cosmetic solutions to help you make the most of your oral appearance.
Stains are considered to be spots of discoloration caused by some factor such as consumption of food or beverages that contain staining pigments, use of tobacco products, excessive alcohol consumption, and poor preventive practices. When dealing with stains alone, the best course of action is to pursue dental whitening, a process that can be completed both in-office and at home. For more information about this process and how our team can help, give us a call today.
Chips, Cracks, and Gaps, Oh My!
Occurring a step up from a stain includes surface-level blemishes like cracks and chips. These issues can occur as a result of a physical accident or injury, or simply from biting down too hard when eating or chewing something.
To address surface-level chips and cracks, your dentist will likely recommend the cosmetic process of bonding and contouring. This includes applying a composite resin material to the affected area, then smoothing and shaping the material so as to provide a seamless finish. Contact our team to learn more today.
Treating it All
When presented with several different kinds of smile discrepancies, including a combination of stains, chips, cracks, and even smile gaps, the best course of action will be to look into porcelain veneer treatment. Veneers consist of ultra-thin shells of dental porcelain that are bonded to the surfaces of your teeth, offering a highly realistic and seamless finish.
Learn More Today
Contact Dreem Dentistry in Leawood, KS by calling 913-681-5500 to learn more about your cosmetic dental treatment options, and schedule your next appointment with a member of our team today.