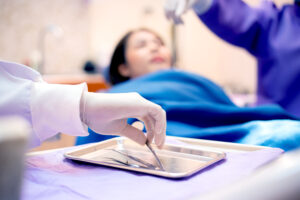 Whether you are aware of it or not, your smile is one of your most important features. Not only is it often the first attribute a person notices about you, but it serves major functions as well, such as biting, chewing, and eating. Indeed, it is important we take the strides necessary to keep our smiles healthy and happy, but sometimes this process is complicated with unexpected issues or even accidents. In today's blog, your Leawood, KS dentist explains the definition of a dental emergency, as well as details important factors to keep in mind when handling your emergency situation.
What is a Dental Emergency?
It goes without saying that there are several factors out there that can serve as major threats to your oral health. Among these include bacterial concerns such as tooth decay or gum disease, cosmetic issues, and major damage caused by physical trauma or injury. These only represent a few of the many ways your smile can become affected, and knowing what to do in these situations can be crucial for your smile's outcome.
With respect to physical damage, a dental emergency can be defined as any situation that occurs suddenly and causes discomfort, pain, rapid swelling, bleeding, or the loss of one or more of your natural structures. What's more? An emergency situation can look different from person to person, and we encourage you to reach out to our team the moment you feel something is wrong.
While a dental emergency can range in terms of severity, it is always better to err on the side of caution rather than wait it out, as that may be all it takes for one issue to become a major complication. To learn more about this process and how our team can be of assistance, give us a call today.
Create a Contingency Plan
Although it is impossible to predict when or how a dental emergency will emerge, that does not mean you are left completely defenseless. As a matter of fact, creating a contingency or action plan that you can follow to seek treatment for an emergency situation can make all of the difference. This plan should keep in mind what to do if a tooth is dislodged, how to collect dislodged teeth or fragments, and who you can call to help transport you to and from our office. Contact our team to learn more today.
Stay Calm and Act Efficiently
While it may seem counterintuitive to stay calm, it actually helps ensure necessary steps are not missed. It also can help you stay level-headed and act with efficiency, as many emergencies occur on a strict time clock.
Learn More Today
Contact Dreem Dentistry in Leawood, KS by calling 913-681-5500 to learn how you can take your dental emergency into your own hands and receive the treatment necessary to maintain a healthy and protected grin.