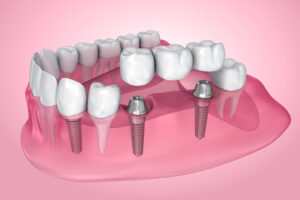 Taking care of your smile is a process that will follow you well into adulthood. Not only are your oral structures important for accomplishing routine tasks such as biting and chewing, but they are oftentimes the first physical attribute a person may notice about another. Indeed, routine preventive care is essential for maintaining a lifelong smile, but sometimes other circumstances or factors may have other plans in mind. In today's blog, your Leawood, KS dentist identifies treatment options for dealing with varying degrees of tooth loss and how those including implant posts can address your functional concerns as well.
The Effects of Tooth Loss
It goes without saying that the ultimate goal everyone shares is to maintain a healthy smile for life. While regular preventive care may come as second-nature, it can also easily experience a dip in quality when this practice continues consistently. In other words, your preventive routine could benefit from an update or revisiting, and failing to do so may result in significant infection, damage, and possibly even tooth loss.
While nobody wants to experience the loss of one or more of their teeth, sometimes this is unavoidable, depending on your circumstances. Indeed, dental infection can develop and spread significantly without you even noticing it is occurring. When you finally are able to note that something is wrong – typically through a toothache, sensitivity, or pain – the infection itself has already spread to your teeth roots where your nerves are housed.
There is often a very short window in which a root canal may be able to salvage your structures, and without timely treatment, tooth loss is immanent. Although this is nobody's first choice, restorative dentistry can help. To learn more about this process and how our team can help, give us a call today.
Addressing Multiple, Consecutive Teeth
While traditional replacement teeth options are designed to bond or fit to already-existing structures, it primarily addresses the cosmetic concern this process brings up. To address this concern, solutions such as dental implants aim to re-create the relationship established by roots and your jawbone. This helps absorb the pressure of your bite without fear of falter.
When presented with the loss of several teeth in a row, our team would recommend implant-retained bridges to address your cosmetic and functional concerns. Give our office a call to learn more.
Benefits of Lifelike Results
In addition to the functional benefits of implants and implant-retained restorations, this option offers high levels of customizability, meaning you can obtain a solution that closely meets your needs. For example, the crown restoration designed to sit atop the post can be shade-matched to the natural hue of your smile.
Schedule Your Visit Today
Contact Dreem Dentistry in Leawood, KS by calling 913-681-5500 to schedule your next appointment with our team and learn more about the functional benefits of implant dentistry.