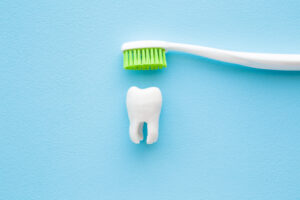 It goes without saying that your smile's health is impressionable, to say the least. In other words, virtually every circumstance you can think of – from oral bacteria to germs, the foods you consume, and the level of your preventive dental care – negatively influences your oral health. While it can be difficult to stay on top of a thorough routine when you are feeling short of one-hundred percent, it is still crucial to be conscious of the barriers to great health that your grin faces daily. In today's blog, your Leawood, KS dentist takes a look at the need for an effective preventive dental routine and explains how you can upgrade parts of your routine for a better overall clean.
The Need for Thorough Protection
Whether you are conscious of it or not, preventive dentistry is essential for maintaining a lifelong bill of oral health. You see, from the moment you are born, your oral cavity becomes subject to potential damage from oral bacteria, germs, and a host of other concerns. What's more? These issues do not simply disappear with time, and the longer you go without seeking treatment, the worse the situation will become.
Because it is virtually impossible to rid the mouth of bacteria entirely, the next best option is to partake in thorough preventive measures. But what exactly does this look like from person to person?
You see, dental prevention consists of any treatment that aims to strengthen your oral protection and fend off threats such as infection, bacteria, and more. Further, a thorough preventive routine often consists of both in-office and at-home components, and should last throughout your lifetime. To learn more about this process and how you can improve care, give our team a call today.
Strides to Take at Home
The most important thing to remember about preventive dentistry is that it is much more than just brushing your teeth. While brushing helps reduce traces of plaque and tartar buildup, it is necessary to recognize that your oral health influences do not end there.
Indeed, in order to treat the necessary components of your smile, you must also take care to gloss between meals and rinse with mouthwash, as these practices prioritize periodontal health and provide a better clean, respectively. For more information, contact our team.
Benefits of Professional Checkups and Cleanings
In addition to your at-home routine, no preventive regimen is complete without factoring in your regular dental checkup and cleaning. These appointments should be scheduled at least once every six months, and they allow our team to provide a thorough cleaning. Further, these visits allow our team to monitor your oral health and ensure minor concerns do not turn into major issues.
Schedule Your Appointment with Our Team
To learn more about the need for a thorough preventive routine, contact Dreem Dentistry in Leawood, KS by calling 913-681-5500 and schedule your next appointment visit with our team.