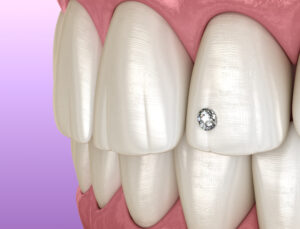 It goes without saying that your smile is one of your greatest assets, and everyone's smile says a lot about them. For example, a bright, jubilant grin can indicate an overall sense of confidence in oneself and happiness. Just as this is the case, the opposite is true as well. This means that people who endure noticeable blemishes in their grins may feel less confident to show their smile, and this is the last thing your dentist wants. Because everyone's smile deserves a chance to shine, our team provides a few cosmetic dental options to help enhance your grin. In today's blog, your Leawood, KS dentist shares how tooth jewelry can set your smile above the rest, and how our team can help.
Customize Your Smile
While we are all aware that nothing is more important to consider for your smile than its overall health and well-being, without a healthy foundation of care, your grin becomes at risk for infections, oral bacteria, and a host of other concerns. Indeed, oral bacteria are present in every smile, and while it is virtually impossible to rid the mouth of all of them, it is incredibly vital that we provide additional care to keep them few in number.
Just because your oral health is the most important factor to consider, however, that does not mean it is the only one. As a matter of fact, many individuals place an emphasis on how their grin is presented, including the presence of any noticeable stains or blemishes.
For years, cosmetic dentistry has been available to address noticeable smile discrepancies, but there is one treatment that takes customization to a whole new level. This treatment is known as tooth jewelry. To learn more about this process and how our team can help, give us a call today.
A Form of Self-Expression
Self-expression is a valuable experience for many, and it can take the form of various activities. Indeed, tooth jewelry offers the ability to customize your smile and enhance your appearance in a creative way. Using smile-safe Twinkles® gems, the gemstone is bonded to the surface of the teeth using a safe-for-your-health adhesive. Now you can enjoy a show-stopping smile with simple and quick treatment. Give our team a call today to learn more about this process.
Simple and Non-Permanent Treatment
One of the major benefits of customized tooth jewelry is that it is non-invasive and non-permanent or damaging in nature. You see, we utilize a strong but safe adhesive that bonds the gemstone to the surface of your tooth. Further, when you are ready to try a new style, we can help remove the stone simply, easily, and pain-free.
Learn More Today
Contact Dreem Dentistry in Leawood, KS by calling 913-681-5500 to learn more about the process for tooth jewelry and schedule your next cosmetic appointment with our team today.