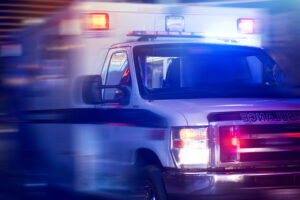 By now, you are likely aware that a lifelong, healthy smile is only made possible through consistent preventive care. Indeed, there are a large number of bacteria, germs, infections, and other concerns that are constantly attempting to compromise your smile's health, and unfortunately, not much in terms of natural defenses. As such, our team recommends a well-rounded at-home routine. Still, this process fails to account for instances of a dental emergency. In today's blog, your Leawood, KS dentist discusses the process to follow when faced with a dental emergency, as well as how you can prioritize your smile's health.
Try to Remain Calm
Attempting to remain calm is much easier said than done, but coming prepared with a few possible methods to calm yourself can help your emergency situation tremendously. You see, a dental emergency can arise at any given time as well as impact virtually anyone of any age. Further, the severity of the situation will vary from situation to situation, but one thing remains consistent: acting with efficiency is your best step.
Indeed, emergencies often consist of any issue related to your oral health in which discomfort, pain, trauma, or otherwise problematic functioning is affecting you directly. An emergency can range anywhere from having a toothed knocked-out during a sporting event, or simply biting down too hard and cracking a tooth. Regardless, it is best to act sooner rather than later when presented with an emergency situation, as this optimizes your chances of receiving successful treatment.
When presented with a dental emergency, acting on impulse can lead to problematic complications. Indeed, you may not act with proper care, leading to situationally worse circumstances. To learn more about the steps you should take for treating an emergency, give our team a call today.
Have Someone on Standby
While you certainly cannot anticipate when an emergency will arise, you can ensure that you are prepared in the event one does arise. For example, our team recommends having a person on standby or a go-to person to call in the event of an unexpected issue. This person can help drive you to your same-day appointment and back, which is especially helpful if you require treatment that warrants the use of dental sedation. Ring our office today to learn more.
Acting with Efficiency
Acting with efficiency does not necessarily mean acting with speed. Indeed, rushing the process can cause bigger issues to develop, and attempting to make decisions when in shock is all but productive. Try to take a moment to calm yourself and process the situation. This will allow you to act with better care and retrieve any dislodged structures that may have broken.
Speak with Our Team
Contact Dreem Dentistry in Leawood, KS by calling 913-681-5500 to schedule your next appointment with our team and learn more about the steps you should take in a dental emergency.