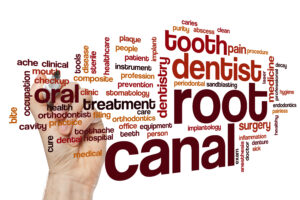 It goes without saying that caring for your teeth is a lifelong process. What's more? There are a number of different factors that influence your oral health, including your gums, tongue, and roots. As such, your regular preventive dental routine should be reflective of this process.  Even still, sometimes disease or infection may have other plans, causing one or more structure to succumb to harm. In cases such as these, restorative dentistry might help. In today's blog, your Leawood, KS dentist discusses the need for restorative dentistry, as well as why you may benefit from a root canal procedure depending on your circumstances.
When Infection Is Irreversible
The foundation for a healthy smile begins with at-home preventive dentistry combined with in-office checkup and cleaning visits. The reason why these steps are necessary is due to the fact that your smile is constantly under the scrutiny of oral bacteria, germs, infections, diseases, and more. Indeed, maintaining a lifelong grin would not be possible without the help of preventive dentistry.
It is important to note, however, that even if you take steps to brush, floss, and even use mouthwash regularly, falling short in any one category may just be enough to allow these threats entrance. You see, when oral bacteria are allowed to thrive relatively unbothered, they begin to wreak havoc on your smile. The most common oral health threat out there is tooth decay, which begins when bacteria produce destructive acids that wear away your enamel.
Over time, the situation is guaranteed to worsen. As such, it is important to attend your dental visits and learn about your options. While most situations are reversible, sometimes decay progression can be so advanced that the best option is to remove the infection from the internal workings of your structure.
Removed for the Greater Good
The last thing a person wants to experience in their life is losing one or more natural teeth due to spreading infection. As your cavity worsens, the infection moves toward the inner workings of your structures. Here, the sensitive nerves are housed in the roots, and damage can cause a number of issues such as sensitivity, aching, and overall difficulty in function. At this stage, your best bet to mitigate this damage involves root canal therapy. Contact our team today to learn more.
What to Expect from Treatment
When you come in for your root canal appointment, our team will take care to remove the infected portions of dental pulp from your teeth, then fill the open cavities with dental material to reinforce its strength. Finally, we will finish the treatment by capping off your tooth to allow for proper healing.
Learn more Today
For more information about the need for restorative root canal treatment, contact Dreem Dentistry in Leawood, KS by calling 913-681-5500 to schedule your visit and learn more today.