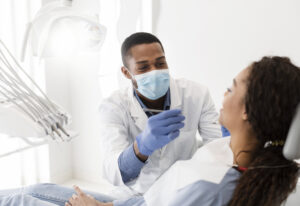 Your preventive dental routine includes a number of steps that are essential to upholding your smile's health and ensuring your grin is protected from dangerous bacteria and infection. Indeed, there are countless factors that influence your grin, and it is up to you to keep it clean and protected. Your dentist recommends a regimen of at-home care, but no routine would be complete without regular dental examinations and cleanings. In today's blog, your Leawood, KS dentist reminds our patients to schedule their routine checkups before the year is out, as well as utilize your benefits before it is too late.
Why It Matters
Dental prevention in and of itself is an important practice to have down. You see, there are different areas of dentistry that help cosmetically enhance your smile, restore broken or infected structures, and virtually everything else in-between. When it comes to protection that keeps your smile strong and happy, however, prevention is the name of the game.
Preventive dentistry often consists of practices that are intended to strengthen your line of defense against harm, as well as remove potential barriers to a lifelong smile before physical complications arise. In other words, prevention is intended to protect your teeth from harm.
When prompted, the majority of our patients will share that brushing their teeth is the most important consideration to make when it comes to their daily routine, and to an extent, this may be true. In fact, brushing is the foundation to an effective routine, but it is important you do not forget the elements that prioritize other facets of your oral cavity as well, including flossing and mouthwash rinsing. For more information about this process, reach out to our team today.
Starting the Year off Strong
In addition to your at-home routine, your dentist cannot emphasize enough the importance of your routine checkup and cleaning. This visit allows an experienced dentist to examine your structures for any signs of decay, infection, or other concern, in addition to providing a thorough and in-depth dental cleaning.
You see, these services help you to better prioritize what elements need to be worked on, as well as how you can better care for your teeth. Further, seeking care sooner rather than later helps lay the foundation for a healthier smile. To learn more about this process, reach out to our team today.
Utilizing Your Benefits
Another major incentive to schedule your next dental appointment is to utilize your dental benefits! Throughout the year, you accumulate incentives, promos, and perks from our team regarding your treatment, and it is best to use them before they expire at the end of the year.
Schedule Your Appointment
Contact Dreem Dentistry in Leawood, KS by calling 913-681-5500 to schedule your next appointment with our team and learn more about the benefit of scheduling your checkup before the new year.