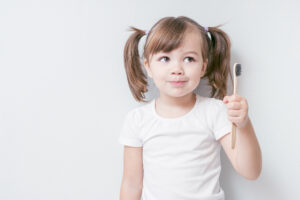 It goes without saying that the last thing a person wants to experience is the loss of one or more teeth. Indeed, tooth loss is a phenomenon caused by a variety of factors, and the sooner you seek treatment, the better off your smile will be. While restorative dentistry is excellent at mitigating already-present concerns, your best line of defense is simply to practice a well-rounded preventive dental routine. But just how early should you start? In today's blog, your Leawood, KS dentist discusses the importance of instilling excellent preventive practices at a young age, as well as what you should know about better care for younger smiles.
A Complete Regimen
Ensuring that your family's preventive dental routine is up-to-par involves ensuring that multiple areas are covered. In other words, dental prevention is not a linear concept, and it often involves consistent care through a few different practices. You see, your oral health is made up of more components than just your teeth, and as such, preventive care should consist of practices that address these different areas to ensure a healthier smile.
Indeed, your oral cavity consists of your teeth, roots, gums, tongue, cheeks, and throat. Each of these components can become affected by bacteria, disease, and a number of other concerns, and when this occurs, it ultimately impacts your oral health.
As a matter of fact, your dentist recommends practicing a well-rounded routine to ensure smile protection and health. This process consists of brushing your teeth twice daily, flossing between meals, utilizing mouthwash to reach inaccessible areas, and of course, attending your routine checkup and cleaning with our office. To learn more about this process, reach out to our team today.
At-Home Components
The earlier you start preventive care, the better off your smile will be. This means starting young with care for your children so that habits can be established early and maintained throughout life.
Dental prevention is often divided into two main parts: at-home care, and in-office care. Because the majority of your routine has to do with the consistent care you put in at home, this step is crucial for younger smiles. As plaque develops as the day goes on, it is important to remove these deposits to minimize the chances of infection or disease. Because of this, your dentist recommends brushing two times a day at least. Further, flossing helps protect the gums, and mouthwash reaches areas of the mouth you might not be able to reach with brushing alone.
In-Office Care
In addition to the care your little one provides his or her smile at home, it is important to attend routine checkups and cleanings so as to ensure smile development is as it should be. Ask our team about options that provide additional strength the next time your family visits as well.
Schedule Your Visit
Contact Dreem Dentistry in Leawood, KS by calling 913-681-5500 to schedule your next appointment with our team and learn more about the need to start effective preventive care early for children.