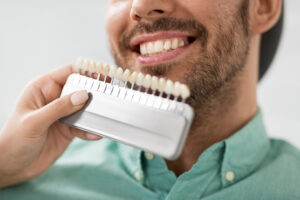 It goes without saying that your oral health is the top priority to consider when you are taking care of your smile. Bear in mind, however, that this statement does not mean that cosmetic concerns should go by untreated just because they are "not as important." As a matter of fact, many people place a great emphasis on the appearance of their smile, and many others share that it signifies heightened confidence in oneself. In today's blog, your Leawood, KS dentist is going to take a look at the pros and cons of porcelain veneers so that you are aware of your options when seeking cosmetic treatment.
The Need for Cosmetic Care
Just as many other patients, you likely have been caring for your smile for so long that it comes as second nature. This means you do not have to think twice about it, as you likely follow a routine that involves waking up, brushing your teeth, getting ready for the day, and so on and so forth. Indeed, as adults with hectic schedules, it can be difficult to ensure you are properly caring for your smile in the way it requires, and as such, minor issues such as cavities and toothaches may begin to set in.
Another concern that many might not notice initially is the formation of stains. In fact, unless you are looking at your teeth regularly, these issues can develop unnoticed and worsen before attention is given. The same can be said for minor chips or even cracks, especially if they are purely surface-level, which means you will not feel them. In cases such as these, cosmetic dentistry offers a significant helping hand. For more information about this process, reach out to our team today.
Addressing Multiple Concerns
One cosmetic treatment that is wildly popular due to its versatility involves porcelain veneers. These are ultra-thin shells of dental porcelain that are handcrafted and bonded to the surfaces of your teeth. Due to their uncanny resemblance to natural teeth, they are an effective solution that can be custom-tailored to meet your needs. Further, they can address a variety of concerns, from chips to cracks and stains. To learn more about these solutions and how our team can help you, reach out to our office today.
A Permanent Solution
While porcelain veneers offer benefits such as the ability to address a variety of issues, there are also drawbacks or cons to look at as well. For example, veneers are a permanent solution, meaning they are secured to your teeth definitely. This can be problematic if, down the line, you would prefer to have the structures removed.
Speak with Our Team
Knowing your options is important when making the most of your smile, and our team is here to help. Contact Dreem Dentistry in Leawood, KS by calling 913-681-5500 to learn more about the cosmetic benefits of porcelain veneers, and schedule your next appointment with our team today.