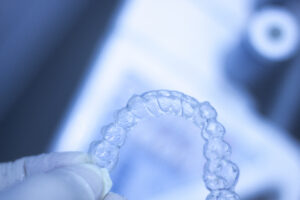 There are various factors that can contribute to the integrity of your smile, and the unfortunate truth is, there are more aspects that provide a negative influence than a positive one.  Indeed, you do not have to worry about only tooth decay, but the effects of periodontal infection, how foods and beverages erode the enamel on your teeth, and much more as well. In today's blog, your Leawood, KS dentist discusses why it is important to ensure your oral structures are aligned properly, and how clear aligners offer a discreet solution.
It's a Gradual Process
For many patients, the initial thought that comes to mind when experiencing the effects of a crooked smile is how it impacts their appearance. Indeed, misaligned teeth do create a cosmetic concern, and lack of treatment can even cause people to feel ashamed of their grin. You see, your smile is often one of the very first physical attributes a person notices about you, and as such, it can be the source of significant confidence or a lack thereof.
What you might not know, however, is that crooked teeth can actually impact your oral health as well. When teeth roots are crooked, it can cause crowding in surrounding structures, which leads to overlap and less-secure structural support. Further, the gaps and overlap created by uneven alignment are relatively difficult to clean, meaning that you may experience an increased chance of developing periodontal infection or tooth decay as well.
With a dental aligner, however, your dentist can provide a custom appliance that helps to gradually guide your structures back into place. To learn more about this process and what your options may be, give our team a call today.
Offering Discreet Treatment
In addition to gradual guidance that encourages a symmetrical grin, one of the major benefits of utilizing invisible aligners is that it provides a discreet method for doing so. Indeed, traditional brackets and braces – though achieving the same effect – result in a bulky, noticeable treatment. Invisible aligners differ, however, in that the clear plastic material used to design them offers discreet treatment that, from a distance, most people will not even be able to notice. Contact our team today to learn more about these benefits and how to get started.
Our End of Year Offer
Right now, our team is offering our patients an end-of-year discount on invisible aligners. If you schedule your visit, we will offer $500 off your invisible aligner treatment, helping you kickstart those New Year's resolutions and take an active role in your oral health and appearance. The next time you attend your checkup, ask our team about this offer.
Learn More Today
Contact Dreem Dentistry in Leawood, KS by calling 913-681-5500 to schedule your next appointment with our team, and learn more about the need for dental realignment and our invisible aligner offer before it runs out.