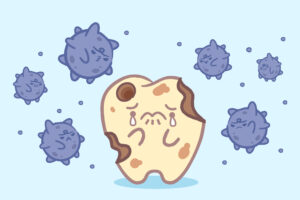 Caring for younger teeth often requires just as much care as adult teeth need, perhaps even more. As such, it is recommended that you and your family practice a thorough preventive dental routine – including flossing, brushing, and attending checkups – so that you can provide your smile with the best chances for lifelong strength. In today's blog, your Leawood, KS dentist discusses what happens when oral bacteria cause decay to affect your smile and how a cavity filling can help.
Fending off Oral Bacteria
Taking care of your smile is a lifelong process and one that requires a number of practices to maintain its care. For this reason, your dentist recommends practicing a well-rounded at-home routine so that each structure receives the care it needs. The truth of the matter is, however, that oral bacteria and other concerns are constantly bombarding your smile and attempting to wreak havoc. Unfortunately, sometimes it succeeds.
Tooth decay is the most common oral health concern out there, affecting millions of Americans each and every year. What's more? By the time patients seek treatment, the infection has spread further than expected, often resulting in tooth sensitivity, pain, and difficulty biting or chewing. Indeed, oral bacteria may be present in every smile, but it takes hard work and dedication to keep them at bay.
Though preventive dentistry is necessary for maintaining a lifelong smile, sometimes it falls short. In cases such as these, restorative treatment such as a cavity filling or root canal therapy can help. Contact our team today to learn more about this process and what this means for your teeth.
Time is Not on Your Side
Contrary to popular belief, simply waiting for a cavity or other oral health concern to go away on its own is not a possibility. You see, unlike a headache or upset stomach, bacteria will continue to spread and cause damage to your teeth. Without proper treatment or effective care, you face the risk of your condition becoming even worse and even more difficult to manage. This could mean receiving a dental extraction rather than a root canal because a structure cannot be saved, and nobody's first choice is to lose a permanent tooth. Give our office a call today to learn about your options.
How Fillings Address Early Decay
Once you discover a concern such as a cavity, it is best to seek treatment sooner rather than later. When you come in for a dental filling, our team will take care to clean the area and remove traces of the infection. From here, we will fill the open hole with a composite resin material, shape it to mimic your natural structures, then cure it using a special light.
Schedule Your Appointment
Contact Dreem Dentistry in Leawood, KS by calling 913-681-5500 to learn more about getting your cavities filled and schedule your appointment with our office today.