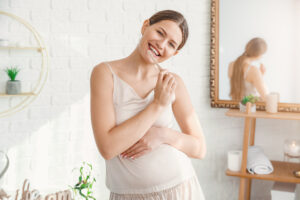 Your oral health is influenced by a number of factors, and the better you are able to address them, the better the outcome will be. Indeed, maintaining a strong and healthy grin for life is no easy feat, and it is important to understand how these factors interact with your teeth and what steps you can take to ensure effective care. In today's blog, your Leawood, KS dentist takes a look at the way pregnancy can influence your oral health, as well as what to keep in mind when caring for your grin in the process.
What Can be Done While Pregnant?
It goes without saying that your preventive routine is essential to maintaining a lifelong smile and a clean dental bill of health. What's more? This often consists of treatment and care aimed at protecting your teeth, such as brushing, flossing, and attending a regularly scheduled dental examination and cleaning once every six months. When pregnancy is introduced into the mix, however, it is important to note what practices cannot be maintained during the pregnancy, as well as what aspects should.
Indeed, a checkup and cleaning are considered essential to your oral health and do not cause any complications to pregnancy, so skipping your visit because you are pregnant should not be a viable excuse to do so. Further, it is important to communicate with your dentist about the types of prenatal vitamins and other prescription drugs you are taking, as well as the dosage, so that we can make sure to alter your treatment plan appropriately as needed.
Additionally, dental x-rays can be done during pregnancy, and we will take strides to perform these with extreme caution. To learn more about this process and how our team can assist you, contact our office today.
Postponing Elective Procedures
In addition to routine preventive visits, an urgent procedure can be performed during pregnancy as well. Keep in mind, however, that all elective procedures should be postponed until after delivery. Further, it is important to meet with your obstetrician prior to attending your first dental appointment while pregnant to ensure you are following any special instructions or precautions beforehand. To learn more about this process and what other procedures are available during this time, reach out to our team today.
Pay Attention to Gum Care
Just as it is important to care for your teeth, your gum health matters tremendously when considering your oral health. What's more? Studies have linked gum disease and premature birth, so it is imperative that you talk with your dentist as soon as possible if you begin to experience bleeding, swollen, or sensitive gums while pregnant.
Learn More Today
Contact Dreem Dentistry in Leawood, KS by calling 913-681-5500 to learn more about your options and how you can care for your smile while pregnant today.