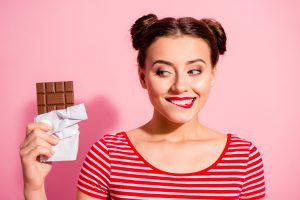 There are many situations that can lead to tooth pain. For example, your wisdom teeth coming in incorrectly can lead to physical damage and pain, just as poor preventive care and treatment can lead to sensitivity and infection. Indeed, these are only a few of the oral health problems you may face in your lifetime, and your grin is constantly fending off a barrage of oral bacteria and other threats as we speak. In today's blog, your Leawood, KS dentist explores the connection between infection and desserts, and offers a few tips to keep in mind with National Dessert Day at hand.
National Dessert Day
Whether you are aware of it or not, today is actually National Dessert Day! Indeed, every October 14, people around the country get to give in to the temptation and indulge in the sweet of their choice. As Americans, it goes without saying that we love our cakes, pies, ice cream, and more, and today is the day to celebrate this love!
Of course, remember that moderation is key. We are not going to tell you about the negative impact sugars have on your physical health, but it is important to note that your oral health is a different story. After all, sugars, treats, and honestly, too much of anything can be negative in the long run.
This does not mean you should skip out on national days such as Dessert Day, however. In fact, today's blog is dedicated to its celebration, and as such, we are going to provide a few tips and tricks to keep in mind as you celebrate. To learn more about this process and how our team can help, give us a call today.
Brushing After Indulging
Once again, we would like to emphasize the importance of moderation. Just because today is National Dessert Day, that does not mean you should be overindulging in sugars and other harmful substances every other day of the year.
The reason why sugars are so threatening, in particular, is due to their effect on oral bacteria. You see, bacteria enjoy feeding off of sugars, and doing so causes them to produce a destructive acid that wears away enamel. This process is known as decay, and too much sugar can catalyze the process. As such, we recommend taking care to brush and floss after enjoying a sweet treat to eliminate any traces of the sugars.
Attend Your Checkups
Another important factor to consider is just how important your checkup is when it comes to your health. Indeed, this visit offers an opportunity to provide a closer look at what may be plaguing your smile, as well as helps identify and treat minor issues before they become major concerns.
Learn More Today
To learn more about enjoying your favorites while prioritizing your health, contact Dreem Dentistry in Leawood, KS by calling 913-681-5500 today and schedule your next visit.