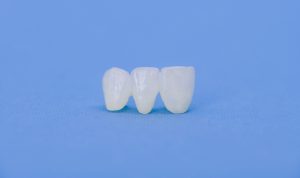 It goes without saying that you can put all the effort possible into taking care of your smile, but even falling short in just one category is enough to allow harmful bacteria and other concerns to wreak havoc. Indeed, caring for your teeth and other oral structures is a lifelong process, and as such, you must take strides to provide as much protection as possible. While this is true, that does not mean you must ignore surface-level issues if they do not impact your overall oral health, however. In today's blog, your Leawood, KS dentist explains the way multiple smile blemishes impact patients, and how dental porcelain can be utilized to address these concerns.
Concerns at a Surface Level
By now you are likely aware that your oral health is the top priority to consider when providing care for your smile. After all, there are countless factors out there that are ready to cause problems, and falling short in any one area of your preventive routine is enough of an excuse or opportunity for them to do so.
Bear in mind, however, that not every threat can damage your smile in terms of its health. As a matter of fact, cosmetic issues such as chips, cracks, and even stains do not impact your health at all. Though this is true, that does not mean there is no treatment to address these issues.
You see, many patients report a heightened level of confidence and pride associated with a blemish-free grin. As such, a smile riddled with noticeable discrepancies can be enough to cause one to shy away from situations involving showing it off. With this in mind, cosmetic dentistry offers a solution to help. Contact our team today for more information about this process.
A Myriad of Blemishes
Cosmetic dentistry is any practice that helps address surface-level issues. These can consist of teeth-whitening to deal with stains, or bonding and contouring to reestablish a symmetric appearance. But what does this process say for smiles containing all of the above?
Fortunately, our team has your answer. Indeed, porcelain veneers are a cosmetic solution that is well-received due to their versatility in treating a variety of surface-level concerns. They consist of ultra-thin shells of dental porcelain that are bonded to the fronts of your teeth. To learn more about this process, give our team a call.
Lifelike Accuracy
One of the major benefits that veneers provide is high-quality treatment and lifelike results. Indeed, treatment is non-invasive in nature, and only requires a minimal amount of enamel sculpting to place. What's more? Porcelain's uncanny resemblance to natural structures mean that most won't even notice you received treatment, so you will get to enjoy the benefits of a youthful and bright grin.
Schedule a Visit
Contact Dreem Dentistry in Leawood, KS by calling 913-681-5500 to learn more about the benefits of porcelain veneers, and schedule the next available appointment today.