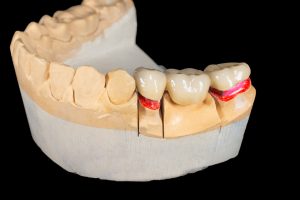 Providing protection for your smile can take a number of forms, including a dental crown placed over a tooth, periodontal cleaning to remove deposits of plaque on your roots, and even replacing one or more missing teeth. What's more? Each case is unique, and what your treatment looks like will depend largely on your situation and your needs. But what happens when you permanently lose one or more teeth, and how can your function be restored? In today's blog, your Leawood, KS dentist takes a look at circumstances in which people lose multiple structures, and how a dental bridge restoration can help in more ways than one.
When Structures Become Infected
It goes without saying that nobody wants to permanently lose a tooth if it can be avoided. After all, it would not only impact your smile's appearance but your oral function as well. The unfortunate truth of the matter is, however, that this phenomenon may occur more often than you might expect. The reason for this is because, by the time a patient seeks help, their condition has already begun to worsen and progress.
You see, most incidents of dental decay and infection are difficult to detect in their early stages. For example, when a cavity forms, it is often in an area that is hard to reach and subsequently clean frequently. As such, harmful acids produced by bacteria will wear away the protective layer of enamel and cause a small hole known as a cavity to form. Because this step occurs on the outside of a tooth, you do not even feel the process occurring. This means that unless you are providing a thorough self-examination, a cavity can easily go by undetected and continue to get worse. To learn more about this process and what steps you can take, reach out to our office today.
A Simple Solution
As decay progresses, it will slowly but surely compromise an entire tooth. What's more? Once you lose one structure to infection, your chances of losing another adjacent tooth increase exponentially. In other words, if you fail to seek proper treatment, you will soon need to seek care for replacing lost teeth. Fortunately, our team can help.
A dental bridge is a form of restoration that consists of two or more custom crowns that are bonded together to span the distance of the gap in your smile. Contact our team today to learn more about this process.
Seamless Results
In addition to completing your smile, a dental bridge restoration can also be custom-designed to fit your needs. Indeed, we utilize advanced dental technology to produce highly lifelike restorations, and we are ready to get started on yours today.
Schedule Your Appointment
Contact Dreem Dentistry in Leawood, KS by calling 913-681-5500 to schedule your next appointment with our team, and learn more about the many benefits of restorative dentistry today.