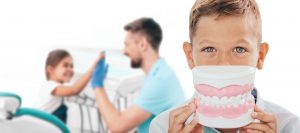 When it comes to maintaining a healthy smile for life, your quality of care for your oral health matters tremendously. Indeed, while circumstances such as physical injury and emergencies can occur at any given time, the main causes of dental damage have to do with a subpar preventive dental routine. Because of this, your dentist recommends that you start your care as early as possible in order to give your smile the best chance of success. In today's blog, your Leawood, KS dentist discusses the importance of children's dentistry, and how proper care can lead to a lifelong smile.
The Need to Start Early
From the moment your first tooth arrives and well into adulthood, your smile is susceptible to a myriad of oral threats. These can include common concerns such as dental decay and infection, or more specific concerns such as bruxism, TMJ disorder, and even tooth loss. What's more? Items you may not even think about can impact your smile, including the foods and beverages you consume or how often you visit your dentist for your checkup.
Because so much can occur in such a short amount of time, your dentist recommends starting preventive care as early as possible. When it comes to taking care of your little one's health, this means bringing him or her in for their first checkup either by the time of their first birthday or at the sight of their first tooth, whichever comes first.
The initial visit is intended to help acclimate your little one to our office and our team so that future treatment is more comfortable. By the age of three, we will want to start seeing your children routinely every six months in order to better monitor their oral development. For more information about this process, reach out to our team today.
Monitoring Developing Grins
During your child's preventive visit, we will take care to carefully but thoroughly examine each tooth and oral structure to ensure proper development. This means paying attention to the orientation their teeth are developing, looking for any signs of infection or complication, and even making sure that they are following a well-rounded preventive routine at home. We will also provide recommendations for better care if needed. OT learn more about this process, reach out to our team today.
Better Chances of a Lifelong Smile
Your child's dental visit serves many purposes. In addition to the examination, we can provide a gentle cleaning as well to mitigate the effects of bacteria-laden plaque. The sooner your son or daughter starts proper care, the better their chances of obtaining and maintaining a healthy, lifelong grin.
Schedule Your Appointment
Contact Dreem Dentistry in Leawood, KS by calling 913-681-5500 to schedule your child's preventive visit with our team today, or reach out to us to learn more about the process.