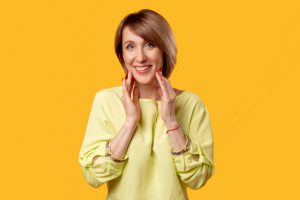 While it may seem pretty straightforward, caring for your smile is actually a more complex process than you might have initially thought. For starters, many issues that threaten your health or function may not be easily detectible in their earliest stages, and by the time you notice there is an issue, it has begun to get out of hand. Still, some concerns may not affect your health or function at all, but enduring a noticeable blemish can severely impact your confidence in your smile. In today's blog, your Leawood, KS dentist describes how cosmetic bonding and contouring can enhance your grin's appearance in a lifelike and comfortable manner.
Have You Chipped a Tooth?
For some, caring for their grin is like second nature. By taking the steps to brush twice a day, floss at least once a day, and attend routine checkups and cleanings, you are paving the path to accomplishing a healthy smile for life. Even still, accidents can occur at any time and range in severity.
Major complications might warrant a trip to the emergency room, while others may cause you to come in for an emergency dental procedure. Sometimes, the biggest concern is simply a noticeable chip or crack, but that does not make the situation any less of an issue.
Just because surface-level concerns do not directly impact your health and oral function does not mean they do not impact your daily routine. For instance, many people place great value on a seamless smile, and some even tout an increased level of confidence because of it. That being said, a single crack or chip has the potential to drastically bring down a person's confidence and self-worth. Fortunately, this is where cosmetic dentistry comes in to help. To learn more about this process, reach out to our team today.
A Simple Treatment
When you experience one or more cosmetic concerns, it might be time to ask your dentist about bonding and contouring. This process involves applying a dental composite resin to the affected area, and then contouring or shaping it to closely mimic the natural shape and texture of a tooth. Once the material has been shaped to satisfaction, it is then hardened using a special light, and you are on your way.
Don't Worry About Appearance
One of the biggest benefits of bonding and contouring is that the material can be shade-matched to your grin, thus allowing a seamless finish. Indeed, nothing is worse than seeking treatment for a cosmetic concern only for it to be a noticeable discrepancy in your grin. Our team takes care to match the material to the shade of your smile exactly, thus providing a discreet solution for your concerns.
Learn More Today
Contact Dreem Dentistry in Leawood, KS by calling 913-681-5500 to learn more about the benefits of cosmetic bonding and contouring, and schedule your next visit with our team today.