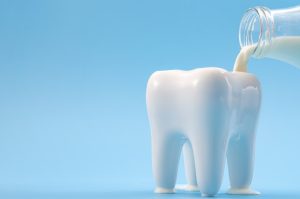 It goes without saying that a well-rounded preventive dental routine is the number one way to obtaining a lifelong smile. Indeed, there are countless threats out there that can compromise your smile's health and integrity, and it is up to you to ensure your teeth are safe and protecting. Still, however, your structures are designed to withstand a lot, but it is important not to take that information for granted. In today's blog, your Leawood, KS dentist discusses how your smile fends off a variety of dental concerns, as well as what steps you can take to ensure proper care.
As Hard as Steel
Believe it or not, your oral structures are some of the hardest and most sturdy bones in the human body. In fact, scientists have measured their strength and durability and have been able to determine that they are just as hard as steel, if not harder. Indeed, this means your teeth are designed by nature to endure rough conditions.
Bear in mind that just because they can endure tough conditions at times, that does not mean they are indestructible. As a matter of fact, failing to protect your pearly whites through some combination of brushing, flossing, diet, and attending checkups can lead to major complications down the line.
Indeed, your teeth can do a lot of damage, but they are not immune to the effects of dental decay, infection, physical accident, and more. Because of this, it is important to take care to provide the necessary treatment and care needed to fend off threats for life. For more information about this process, reach out to our team today.
Common Mistakes
If your smile is harder than steel, surely it should be able to withstand most conditions, right? Unfortunately, this is not the case. In fact, you face a variety of concerns every day, and some are much more aggressive than others.
One of the most common issues a person encounters is damage or destruction due to decay. In fact, dental decay is essentially the most common threat out there and even impacts millions of individuals every year. Without proper preventive dental care, your grin becomes more and more likely to break down, which impacts your appearance, function, and structures. Reach out to our team today to learn more.
Seeking Treatment Sooner
Taking care of your smile is a lifelong process, and falling short in any area of care is enough to invite a slew of unwelcome threats. What's more? The longer you wait to seek treatment, the worse your condition is going to be. For this reason, your dentist advocates that you come in for a visit as soon as you begin to encounter mild pain, swelling, discomfort, and more.
Learn More Today
Contact Dreem Dentistry in Leawood, KS by calling 913-681-5500 to schedule your next dental visit with our team and learn how you can keep your teeth strong and healthy.