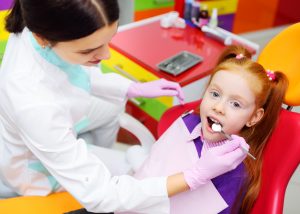 Ever since we can remember, our parents, dentists, and more have been telling us how important it is to take excellent care of our smiles so that our teeth can remain healthy and strong for life. Indeed, this can best be accomplished through a well-rounded preventive dental routine, and whether you are aware of it or not, this notion extends further than just brushing alone. In today's blog, your Leawood, KS dentist will take a look at the importance behind starting preventive care early, and how you can take steps to prioritize your children's smiles, all while encouraging them to play an active role in their care.
It's Never too Early to Start
When it comes to oral health care, it is never too early to start. As a matter of fact, our team recommends bringing in your child at the sight of his or her first tooth, or by his or her first birthday. This is to help familiarize your little one with our team and our office so that future visits are much more comfortable and calmer.
At about the age of three, our team will begin to see your child at least once every six months in order to ensure proper development and care. What's more? This time frame allows our team to keep a close eye on any abnormalities or concerns that develop, as well as ensure minor issues do not develop into major concerns.
When your children come in for their preventive checkups and cleanings, we will take care to provide a thorough examination for any signs of concern or potential threats. We will also take care to provide a gentle cleaning so that your little one's smile can remain strong and healthy for longer.
Leading by Example
To ensure your family understands the importance of a happy and healthy grin, we strongly recommend our patient parents to help out with encouragement. After all, tiny grins are only as enthused about their health as you are, and starting early has its benefits.
Indeed, effective children's dentistry begins with a positive outlook that advocates for proper health. Taking the time to teach your little one how to brush properly and frequently will instill great habits, therefore expanding the lifespan of smaller grins. For more information about this process, reach out to our team today.
Prioritizing Tiny Grins
You and your family's oral health is of the utmost importance, and starting young helps to pave the path for a lifelong smile. What's more? A steady combination of care at home, in-office treatment, and paying mind to what you eat will go a long way.
Schedule Your Next Appointment
Contact Dreem Dentistry in Leawood, KS by calling 913-681-5500 to learn how you can begin preventive care at a young age, or to schedule your family's next visit with our team today.