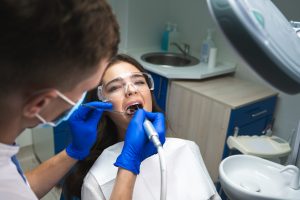 The thought of extensive dental treatment can be a frightening concept to wrap one's brain around. What's more, enduring concerns such as significant decay, periodontal concerns, and more can significantly impact your oral function and leave you feeling disheartened for the future. Indeed, there is often a misconception associated with treatments such as these, and having a better understanding of the process can make receiving care less of a chore and more of a benefit. In today's blog, your Leawood, KS dentist discusses the negative connotation associated with root canal therapy, and how this procedure can benefit your health.
An Effort to Salvage Your Tooth
When your dentist recommends root canal treatment, chances are, it is because other forms of restorative dentistry will no longer be helpful. You see, the process begins with oral bacteria wreaking havoc on your grin. They hide in the difficult-to-access areas of the mouth where they can feed off of the foods and sugars we consume. What's more, these particles cause the bacteria to secrete harmful acids that break down your tooth.
As time progresses without treatment, this leads to decay in the form of a cavity. The decay will work its way deeper and deeper into your tooth's interior, targeting your roots, inner dental pulp, and nerves. At this stage, you will begin to experience functional difficulties when eating or speaking, and even sharp pains as your nerves endure damage from the infection. To learn more about this process, reach out to our team today.
Allowing Your roots to Heal
When teeth endure more damage than what is detailed above, the only viable option left includes dental extraction. In an effort to salvage your natural structures, however, your dentist may perform a root canal treatment by removing the infected portions of the pulp, then filling the open canals with dental material. This process is completed with a custom crown restoration placed atop the affected tooth in order to prevent bacteria from entering, as well as encourages proper healing.
Indeed, root canal treatment is often the last-ditch effort to save your natural teeth. After all, once they are gone, they are gone for good. The last thing you or your dentist wants is for you to part ways with a natural structure, and catching decay early enough in the process can prevent this phenomenon from occurring.
Preventing Structural Loss
Your teeth are some of the strongest bones in your body, but that does not mean they are indestructible. Taking the time to practice appropriate preventive care can help you maintain a healthy grin for life, and making sure to visit your dentist to monitor proper development is a must.
Learn More Today
Contact Dreem Dentistry in Leawood, KS by calling 913-681-5500 to learn more or to schedule your appointment with our office today.