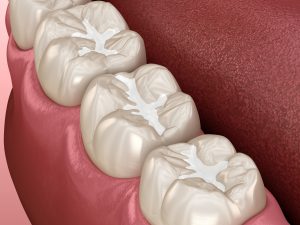 When you have an aching tooth, this could mean the presence of tooth decay. Treatment is vital to avoid complications like dental infection, or even a lost tooth. Fortunately, your Leawood, KS, dentist can provide repair in one visit with our dental fillings. In today's blog, we're looking at how we place one, and what you can do avoid tooth decay in the future.
The Dangers of Tooth Decay
A cavity starts as a minor issue, developing when harmful oral bacteria is able to move past the outer enamel and reach the snit inner layers of dentin. However, the decay will grow with time and spread through the tooth, eventually leading to worsening pain and the onset of an infection, which would potentially cause the loss of the tooth. A cavity could form as a result of injury or teeth grinding damaging outer enamel, or due to poor oral hygiene, which over time weakens the enamel and causes it to erode. If you experience tooth sensitivity and toothaches, you should let us know right away!
Placing a Filling
We start by carefully examining your smile withy advanced digital technology. If we uncover signs of a cavity, we will administer a numbing agent and then remove all decayed portions of the tooth. We then clean the tooth and apply a composite resin material. The composite resin is metal-free, and we color-match it to blend with your smile. We shape the tooth as we cure the material under a special light. The final step involves polishing the tooth thoroughly. The procedure takes one visit to complete, and prevents a cavity from becoming an infection or abscess, and prevents you from suffering worsening discomfort or tooth loss!
Protecting Your Smile
Following the procedure, you may want to know how to avoid future cases of cavities. First, try to consume fewer sugary foods and drinks as this provides particles for harmful oral bacteria to consume. We also suggest brushing your teeth twice a day for two minutes, always using a fluoride toothpaste when you do. You need to floss every evening too, as this removes what a toothbrush can't always reach. Make time to see our team for a checkup and cleaning every six months too! These actions help prevent cavities, and allow us to identify and treat them in the earliest possible stages. If you have any questions about how we treat issues like cavities with a filling, or about avoiding the onset of decay, contact our team today.
Do You Have Questions About Our Fillings?
We want to make sure you avoid worsening discomfort or dental infection. Contact Dreem Dentistry in Leawood, KS by calling 913-681-5500 to learn more about keeping your smile strong, healthy, and whole for years to come!