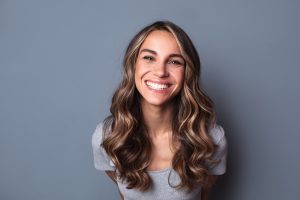 Dental decay has long been the bad guy when it comes to maintaining a healthy smile. Indeed, the phenomenon affects millions of individuals every year, and can take a variety of forms. These include cavities as well as internal infection that requires root canal therapy. While it is a common concern, it is not one that everyone must endure. In fact, the biggest complaint that some may have includes a noticeable blemish that tarnishes their smile. In today's blog, your Leawood, KS dentist takes a look at the importance of loving the smile you are in, and how cosmetic teeth-whitening can help.
Diminished Quality Over Time
Our smiles endure a significant amount of wear and tear over the years. It is almost as if the list of factors that harm our oral health is never ending. For instance, your That being said, it is no surprise that most adults can benefit from a cosmetic touch-up.
Cosmetic dentistry is the process of enhancing your smile's appearance through some form of surface-level treatment. In other words, it affords you the ability to have a stain removed or a gap fixed without having to endure an extensive treatment to achieve it.
As time goes on, it is only natural that the brightness of our beams diminishes. After all, that morning cup of coffee may give you caffeine to help get you through the day, but it can come with a price as well. Next thing you know, your grin is riddled with difficult stains. That being said, most adults can benefit from cosmetic whitening.
What to Look Out For
Ordinary tasks that you might have once thought were a part of your daily routine may actually damage your teeth more than you think. Similar to coffee, tea has staining pigments as well, and foods with certain dyes also aid in blemishing your smile.
In addition to its appearance, certain foods and beverages can cause physical damage as well. For instance, berries and citrus items can weaken your natural layer of enamel, while sugars can encourage the formation of cavities. For more information about what to look out for, contact our team today.
Lifelike Results in One Visit!
To best address your appearance woes, our team may recommend the help of teeth-whitening. During this process, our team will apply a strong but safe bleaching agent to the surfaces of your teeth. We will then activate this gel with a special light, allowing it to stimulate and set to work breaking up stains for removal. The best part is that your treatment can be completed in a single visit, and you will begin to notice a difference of up to several shades brighter.
Schedule Your Next Appointment
For more information about the benefits of cosmetic whitening, contact Dreem Dentistry in Leawood, KS by calling 913-681-5500 and schedule your appointment today.