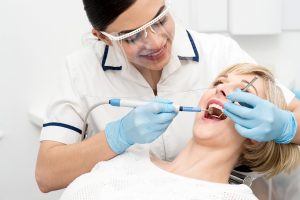 Decay and infection are often the biggest threats to your smile, causing destruction and breakdown along the way. While they might be on most people's radar, they are far from the only threats to your oral health. In fact, nearly anything can negatively impact your grin's function, structure, appearance, and more, and that is why it is so important we practice excellent habits to keep it safe. In today's blog, your Leawood, KS dentist discusses the importance behind preventive dentistry and how a well-rounded routine can keep your smile happy and healthy.
Everything is a Threat
Over the course of our lifetimes, our smiles endure a significant amount of wear and tear from a variety of sources. For instance, the morning cup of coffee we need to kickstart our day has properties that actively stain our teeth. What's more, the sugars contained in a number of treats encourage bacterial destruction and increase your chances of developing cavities and other complications.
Even still, nontraditional circumstances such as injury due to a physical accident or even grinding your teeth at night can have major impacts on your function, structure, and overall health. Because nearly everything has a negative effect on your teeth, it is imperative we take steps to ensure its protection as best as we can. To learn more about the dangers that impact your health, contact our team today.
The First Line of Defense
When it comes to your structures, the layer of enamel covering their surfaces is often the first – and only – natural line of defense your oral cavity contains. This means that once it is gone, there is nothing standing in the way of harmful bacteria and other threats from attacking.
To better assist our smiles, your dentist recommends a well-rounded preventive dental routine so that you can keep your structures healthy and strong. This includes a combination of actions such as educating yourself on what foods and beverages have negative effects on your teeth, as well as practicing preventive care at home or in-office. Reach out to our team to learn more about the importance of a well-rounded routine, and how our office can help.
Keeping Your Smile Healthy
Protecting your oral structures consists of more than just being cautious about what you eat. In fact, another important step includes taking care to brush and floss regularly at home. Brushing at least twice a day and flossing after every meal can go a long way when it goes to preventing deadly disease or infection, and leave your teeth stronger. Additionally, attending a routine checkup and cleaning also assists you by providing a trained eye to examine your oral cavity and ensure everything is at peak health and in tip-top condition.
Schedule Your Appointment
For more information about the steps you can take to ensure a lifelong grin, contact Dreem Dentistry in Leawood, KS by calling 913-681-5500 to schedule your appointment with our team today.