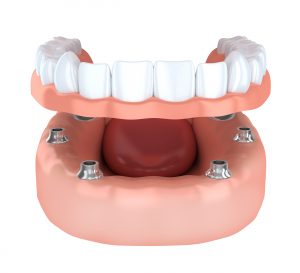 Adult tooth loss can be a difficult process for many, especially if you are unaware of your dental options moving forward. Indeed, circumstances such as internal root infections can progress at a rapid rate without proper care, resulting in the loss of one or even multiple teeth. In today's blog, your Leawood, KS dentist would like to take a look at prosthetic dental options you may have to address complete structural loss, and how implant-retained dentures could be the right option for you.
Traditional v. Implant-retained
One of the more prominent prosthetic options over the course of the years has proven to be custom-made dentures. These prosthetics are designed to be placed over the gums and secured with a dental adhesive paste that you can often find at your local drug store. For years, this was the primary means for securing your dentures, but certainly was not the most ideal manner of handling the situation. In fact, the adhesive could be applied too minimally or in too large of quantities, causing concerns such as falling out as one speaks or eats.
As an alternative, implant-retained dentures are created in a manner that they click right in to the biocompatible posts that are present within your grin. This provides a much more secure connection as a result. For more information about this process, contact our team today.
Benefits of Biocompatible Posts
A major benefit that arises from the use of posts is the ability to restore aspects of your bite's function. Your natural teeth are important in a number of ways, and the manner at which the root is secured closely with the jaw plays a major role in allowing your crowns to properly absorb the pressure of your bite.
When structures are lost, the function of the root is missing, causing difficulty in absorbing bite pressure. With traditional dentures, the role of a tooth root is nonexistent, relying entirely on the paste and prosthesis to perform adequately. With implant dentures, however, the biocompatible posts function as artificial roots and thus allow a more accurate method to accomplish this goal.
Restoring the Function of Your Grin
Dentures that utilize posts often use a strategic method of placement known as All-On-4. This method utilizes advanced dentistry to allow for the strategic placement of only four posts. Not only does this decrease trauma and recovery time, but it also allows you to regain significant oral function as well. For more information about the process or to speak to our team, contact us today.
Schedule Your Visit Today
Losing one or even all of your teeth as an adult can be troublesome, and that is why our team is here to help. Contact Dreem Dentistry in Leawood, KS by calling 913-681-5500 to find out how our implant-retained prosthetics can enhance your grin and restore your function today.