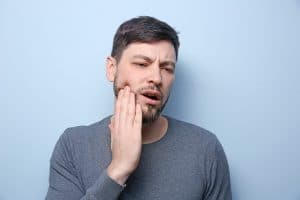 There are many ways in which bruxism can become problematic if it's allowed to continue, but at first, it may not seem like something that could be that serious. Occasionally grinding your teeth might not make them hurt until it causes significant wear or damage to your tooth structure. Fortunately, taking quick action when you notice such symptoms can help you avoid many of the problems that bruxism can cause and preserve more of your healthy, natural tooth structure.
What having bruxism actually means
Bruxism is a condition in which you constantly grind your teeth together, and you may not always notice when it occurs. The grinding is typically the result of an underlying oral health concern, such as an imbalance in your bite, and addressing it may require professional, personalized treatment. The longer you ignore your bruxism, the more damage and wear it can cause to your teeth, and having the condition can become the most serious risk factor to your long-term oral health.
The symptoms that can impact your oral health
Because you won't always notice that you're grinding your teeth, the fact that you do may not be the most reliable warning sign. However, constant teeth grinding can start to cause your teeth to grow more sensitive, wear down their chewing surfaces, and make your bite feel off when your upper and lower teeth meet each other. Not only do these signs indicate the possibility of bruxism, but also signal the potential damage that can occur to your teeth if you don't address it soon. Fortunately, your dentist may be able to help you avoid further complications by treating your bruxism with a custom-designed oral appliance.
Finding the right solution for your bruxism
When you detect and treat your bruxism early, wearing a custom-designed oral appliance when you sleep may be all you need to avoid extensive tooth damage. The appliance can be designed to comfortably protect your teeth while you sleep at night, when your teeth-grinding habit may be the most severe. Yet, if one or more of your teeth have already experienced damage or wear due to your bruxism, then treating it may also require restoring your damaged tooth structure.
Learn how to treat your bruxism problem
When bruxism becomes a problem, treating it becomes essential to your long-term oral health. To learn more, schedule an appointment with us by calling Dreem Dentistry in Leawood, KS, today at 913-681-5500. We also serve patients who live in Overland Park and all surrounding communities.