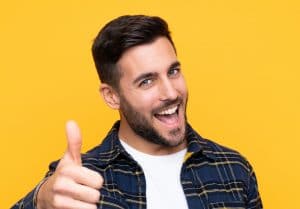 When you first develop a cavity and find out that you need a tooth filling, your first thought may not be about how the filling will look. However, for patients who receive traditional metal fillings to treat their cavities, the appearance of the filling can be hard to miss once it's placed. Fortunately, many patients can benefit from more modern fillings that not only treat their cavities, but do so in a way that remains discreet long after the tooth has been restored.
What a cavity means when it forms
A cavity isn't usually something that's difficult or complex to address, though the consequences of it could be severe if it isn't addressed promptly. What's commonly referred to as a cavity is a hole, or depression, that forms in your tooth structure when tooth decay develops. This is a chronic condition that begins when oral bacteria infect the tooth's structure, and causes the cavity to form in the wake of the erosion of your tooth. To treat this and save your tooth, your dentist can clean away the infected tooth structure and harmful oral bacteria, then fill it, preferably with a discreet, tooth-colored material.
How tooth fillings are meant to address this
The point of a putting a tooth filling in your cavity after it's been cleaned is to restore the tooth structure that the decay has eroded. This can impact the overall health and structural integrity of the tooth, leaving it weaker even after the infection has been removed. Restoring the tooth's strength and protecting the exposed part of its structure from harmful oral bacteria requires filling the cavity. For optimal results, we often suggest using tooth-colored composite resin, which bonds securely to your tooth structure and can be tinted to blend in discreetly with your tooth's appearance.
How to create a tooth-colored filling
The main difference between a traditional filling procedure and a more modern one is the material that's used to restore your tooth. Traditionally, dental fillings were often crafted from a mixture of different metals, known as amalgam, that offered durable results for restoring your tooth. Today, however, more people benefit from fillings that are crafted from biocompatible composite resin, which is crafted from finely ground acrylic and quartz-like particles. This allows us to custom-tint the resin to match your tooth's unique color and shade, creating a discreet and durable filling for your cavity.
Learn how to treat your cavity more discreetly
With a biocompatible, tooth-colored filling, we can help you treat your cavity more discreetly and, in many cases, with improved long-term results. To learn more, schedule an appointment with us by calling Dreem Dentistry in Leawood, KS, today at 913-681-5500. We also serve patients who live in Overland Park and all surrounding communities.