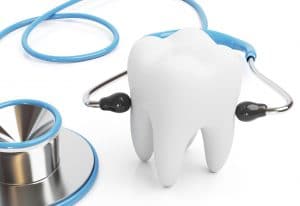 Not every dental emergency is an obvious one, and even if your condition seems severe, you may not realize that it qualifies as an emergency situation. While people can experience a wide variety of types of dental emergencies, the common theme to all of them is a need for immediate treatment, before the condition gets worse and leads to more complicated concerns. Today, we take a look at a what a few common dental emergencies can mean if not addressed promptly, and how emergency treatment can help you save your smile.
Your tooth is damaged
The most common types of dental emergencies involve some form of damage to your tooth structure, such as a fracture in its crown or a piece broken off of it. These types of emergencies may cause severe tooth discomfort, or minor tooth sensitivity. They may occur from accidental trauma and be immediately noticeable, or they may be the result of an unrealized factor (like teeth-grinding) and not be visible at first. When a tooth becomes damaged in any way, however, the damage will grow worse the longer it remains untreated.
Your tooth has been knocked out
When the cause of your dental emergency is accidental trauma, damage to your tooth structure may be a minor concern. In more severe cases, a tooth may be completely knocked out of its socket (avulsed), leading to a number of complications resulting from its loss. In addition to the discomfort of the trauma, the tooth's loss can also have a diminishing impact on your oral health long-term. To limit this impact and restore your smile, you should seek to replace the tooth as soon as possible. For optimal results, we may suggest placing a dental implant-supported restoration to fully restore your smile.
Your tooth structure is compromised in other ways
Aside from tooth damage and avulsion, there are other ways in which your tooth structure may be compromised and require immediate attention. For instance, if your tooth becomes decayed severely enough, the infection could affect more than just the visible structure of your tooth, but also the root that supports it and the tissues inside of its canal. If tooth decay or other concerns threaten the tooth severely enough, then emergency treatment could be required to save it.
Learn what your dental emergency means
A dental emergency can mean a lot of things, but seeking treatment as soon as possible is common to all emergency situations. To learn more, schedule an appointment with us by calling Dreem Dentistry in Leawood, KS, today at 913-681-5500.